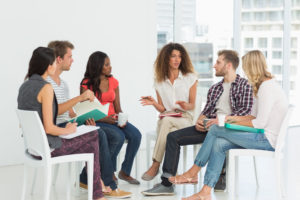 Addiction is no longer just a personal issue to be addressed by the individual or their family.  It has morphed into a global problem with millions of people feeling the effects in one way or another.  For instance, in the United States, approximately 21.5 million adults had illicit drug use problems in the past year.  The impact to society is evident in the economic burden, increased drug-related crime, and families losing loved ones to overdoses.  Although thousands of treatment programs exist across the nation, not everyone who needs addiction treatment can afford it, or they don't think they need the help.  This has resulted in an overwhelming number of overdose deaths in recent years.  
One of the solutions to the drug epidemic is to expand the availability of affordable, effective treatment programs.  Other approaches to resolving the problem include increased awareness and prevention campaigns and stricter controls on prescription medications.  But, no matter how hard we try, millions of people will become addicts.  This is why it is essential to help them get the therapy they need to overcome their addiction and return to being a contributing member of society.  
How Does Therapy Help Addicts Overcome Addiction?
Addiction is a complex disorder comprised of several factors that make it difficult for a person to quit using.  The first contributing factor, of course, is the addictive qualities of the drug being abused.  But, underlying reasons also play a role in a person's substance abuse.  These reasons can include low self-esteem, depression, relationship issues, financial problems, peer-pressure, risk-taking behavior, or just wanting to have more fun.  Also, many people who are struggling with addiction are genetically predisposed to the condition.  Then, there are those who have lived in an environment where drug or alcohol abuse was the norm, so this is a learned behavior for them.
With the above contributing factors in mind, how do addiction rehab programs approach treating these individuals and help them find recovery?  One way is to apply a Holistic approach to therapy, which is showing remarkable results in restoring a person's mental, emotional, and spiritual well-being for long-term recovery.  
Victory over addiction is accomplished with a combination of therapies that address the physical and emotional factors, concurrently.  Detox alone is not a solution or a cure because it only deals with the physical dependency.  It is merely the first step in a comprehensive treatment program that also addresses the emotional, mental, and spiritual issues.  Let's take a look at the therapies offered in a Holistic program that are helping people overcome addiction and enjoy productive, healthy lives.
Holistic Therapies That Heal the Whole Person
The most effective treatment program is one that is flexible and can adapt to each patient's specific needs.  That is the beauty of a Holistic program.  Depending on the drug involved and the severity of the patient's addiction, the treatment plan is tailored to ensure a favorable outcome for the individual.   Some of the therapy options offered in a Holistic program include:
Detoxification

Group and Individual Counseling

Cognitive Behavioral Therapy

Nutritional Guidance, Vitamin Therapy

Music and Art Exploration

Family Counseling

Aromatherapy, Relaxation Techniques

Massage, Yoga, Exercise/Fitness Routines

Mindfulness, Meditation

Body Rejuvenation
With this group of targeted therapy approaches, patients gain self-confidence, learn new skills or hobbies, interact and learn to communicate effectively with others, and find better ways to cope with life's daily challenges.  
Other options available in Holistic rehab include inpatient/residential programs, outpatient care, and aftercare services.  All in all, there is a plan to fit anyone's unique circumstances.  
As you can see, addiction recovery is about more than just getting sober.  It's about learning a whole new way to function in daily routines without needing an escape mechanism such as drugs or alcohol.  Life can be difficult but addiction is probably the hardest thing a person will ever endure.  No one wants to be an addict, nor do they choose to become one.  But, it can happen so quickly, and can be so all-consuming once it begins that the person feels there is no hope.  This is why treatment programs have evolved to provide respectful, compassionate care to these individuals.  
We Can Help You Find the Right Treatment Program
No one can say which drug rehab program is the best.  But, more and more people today are choosing Holistic programs and getting outstanding results.  It's unfortunate that we can't stop addiction altogether.  So, the alternative is to save as many lives as possible by offering addicts an affordable, professional program where they can heal.  
If you, or a friend, or a loved one needs treatment for drug abuse, explore our website for more information on this topic and others.  We have an assortment of articles about addiction and recovery programs that will be helpful in your quest to choose the right program.  
Sources:
https://www.drugabuse.gov/publications/drugfacts/nationwide-trends